Fiber Etch is a liquid gel which comes ready to use for devore' or "burnout" processes*. Top designers use it to create fabulous looks.
You may etch designs into fabric and paper to produce elaborate devore' techniques on cotton, linen, or rayon fabric blends. Fiber Etch also removes fabric within embroidered or painted areas for 'cutwork' effects. Apply or silk screen Fiber Etch gel and allow to dry - heat to activate - and rinse fibers away.
Fiber Etch is also formulated to work on paper and wood! It actually 'etches' into the surface of paper and wood.
*Cotton, linen, and rayon yarns ("plant" fibers) are completely removed with Fiber Etch. With blended fabrics, the synthetic, silk, or wool yarns which remain after etching leave decorative effects, appearing almost as if they were woven into the fabric.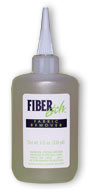 | | |
| --- | --- |
| Fiber Etch 32 oz. - $57.20 | |
What You Can Do

With Fiber Etch you can:

Easily make your OWN designer fabrics
Create transparent areas on specialty fabrics
Add decorative stitching to your new fabrics
Etch specialty papers
Make woodburned effects
Incised lines
"Watermarks
Add watercolors, dyes or pastel to your paper

Fiber Etch may be:

Applied directly from the bottle
Silkscreened
Stamped with foam decorator stamps
Brushed onto the fabric surface
Applied with The AirPen, which is especially useful for drawing fine lines and intricate details using an XX-Small tip

| | |
| --- | --- |
| | |
| Designing, Digitizing & Embroidery by Iris Lee (Larger Image) | Woodburned Leaf Pattern |

Linen Fabric, White Poly
Thread Monogram

Metallic Thread,
Computerized Embroidery

Freezer Paper Stencil

Office Supply Dots

Poly Thread, Computerized Embroidery

100% Cotton Fabric, Poly Thread,
Computer Design